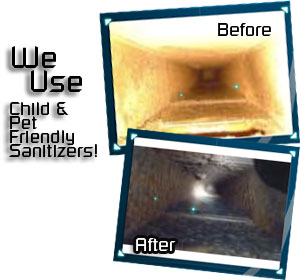 In recent years, duct cleaning has become popular mainly because of the benefits it brings to homeowners. While the National Air Duct Cleaners Association clearly indicates that more research needs to be done to establish whether homeowners actually benefit from duct cleaning services, field experiences show that clean ductwork improves the efficiency of HVAC systems.
Our Duct Cleaning Services
At Plantation Air Conditioning Repair, we use vacuums, specialized blowers, and brushes to thoroughly clean the supply return and intake ducts throughout your home. Because of the comprehensive nature of our cleaning service, we also include air handler cleaning as well as fans, grilles, registers, coils, motors and housings.
When Should You Have Your Ducts Cleaned
The Environmental Protection Agency (EPA) has taken a stance that unless your ducts are really dirty; there exists no reason to have them cleaned. However, the reality is most ducts become contaminated without homeowners knowing and hence it's important to carry out a periodic cleaning exercise preferably once per year. Your ducts should be cleaned when:
You have renovated or remodeled your home particularly in premises where asbestos abatement existed or where there was significant dust. Normally, ducts should be sealed off during renovations and if they were not, debris and dust may have been lodged into your ductwork thus requiring cleaning.
There is evidence of animal nesting or infestation. In this case, the animals should be removed and the ductwork cleaned.
There is mold growth – Visible mold growth inside your ductwork is a sign that they need to be cleaned.
Contaminants are released into the indoor space through ducts. From time to time, you may notice pet hair, debris and other contaminants being released into your indoor environment even after the registers are cleaned and vacuumed. This simply means that your ducts are dirty and need professional cleaning.
Cases of unexplained allergy-related illness are on the rise – If your family members suffer from allergies that cannot be traced to any visible cause, then after decontaminating your home, the next best step is to have your ducts cleaned.
Why we are the Best Duct Cleaning Experts
Plantation Air Conditioning Repair is a reputable and professional HVAC service company. We offer full service cleaning that goes beyond duct cleaning to ensure your heating and cooling units are also thoroughly cleaned. Our customers serve as our references and word of mouth ambassadors because we offer them excellent customer service in addition to giving them real solutions to their ductwork problems.
We offer free estimates that give our prospects an idea of what to expect when the job begins. This is particularly important because we are not in the business of giving our customers surprise costing when the project is done. All our technicians abide by the NADCA guidelines on safe duct cleaning. When cleaning insulated ducts, we follow the guidelines of the North American Insulation Manufacturers Association.
If you want verifiable duct cleaning services complete with EPA and NADCA-recommended cleaning detergents, get in touch with us (954) 278-3884 and we shall get back to you and possibly give you a solution to your needs.