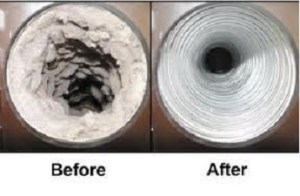 Most homeowners never think that their dryer vents should be cleaned until they begin noticing long drying time or overheating dryer. When the vent system is not up to standard, you may go ahead and buy a new appliance but still it may not work. Lint usually builds up on your dryer vent system with a third to a half of it going through the screen on your dryer. When this lint meets up with the humidity from the drying clothes, some of it sticks to the pipe on its way out. With time, this lint fills up the duct spaces exposing you to unnecessary fires.
The average duct length is about 15 to 20 feet which unless cleaned on a regular basis can be a reservoir of dirt, debris and lint.
Signs Your Dryer Vent Needs Cleaning
The following are some of the signs that your dryer vent system needs cleaning.
Clothes taking long to dry especially towels and jeans
Absence of visible lint on the lint screen
Repetitive stoppages during a drying cycle either due to damaged or blocked vents
Clothes having a moldy smell after a drying cycle
Unusually hot clothes after a dry cycle
Excessive lint left on your clothing after drying
Plantation Air Conditioning Repair has a wide range of professional dryer vent installation, repair and cleaning services. Our technicians use the correct materials to ensure your vent system is properly cleaned thus leaving you with a safe and efficient system.
Dryer Vent Cleaning
With most people unaware of the benefits of professionally cleaned dryer vents nor the dangers of clogged dryer vents, we have taken the lead to ensure that all our customers have their dryer vents inspected and cleaned by a professional at least once per year. We offer a number of cleaning services including:
Visual Inspection – Here, our trained technicians perform a visual diagnostic inspection of the lint trap, vent line, termination point, joint connections and washing machine hoses. The aim of this exercise is to determine if there are any repairs, deficiencies or re-routes required to keep your dryer running properly.
Debris and Clog Removal – Using a professional cleaning system, we flush out debris, lint and any other obstruction present on your dryer vent. If we find that your vent is invested with rodents, birds and disease-carrying pests, we can offer you our sanitizing service geared to making your dryer hygienic.
Booster Fan Cleaning – We usually recommend cleaning of booster fans and dryer vent lines at least once per year. During the cleaning process, we enhance the efficiency of your dryer by removing excess lint that may have collected on the booster fan. This ensures restoration and maintenance of proper air flow.
In addition to the above, we also offer lint screen cleaning and line sanitizing all targeting the removal of microbes and debris along your vent system.
We invite you to test our services at Plantation Air Conditioning Repair and we can assure you that you will breathe easy knowing that your dryer vent system is clean and safe. Call us today (954) 278-3884 to schedule your dryer vent cleaning appointment.